Common Mistakes You Should Avoid As A Small Business Owner
According to a survey, 70% of businesses shut down their operations within the first 3 years and about 90% in their first 5 years of starting. This statistics is high due to the common mistakes of small business owners, committed frequently. These mistakes are so marginal and common that it doesn't attract the attention of the owner but makes a huge difference in hindering the business to its core.
It is said that identifying a problem is halfway to its solution. These mistakes can't be avoided, but by taking proper precautions, one can continue to go past through them without obstructing the life of the business. 
So, what are the common mistakes you should avoid as a small business owner?
Absence of a budget and sincerity to follow it
If the businessmen skip the meticulous task of creating a budget, then it becomes more challenging to overcome situations during cash shortages. The budget is key to organize the flow of finance and inventory. Moreover, it also helps to make wise decisions about various aspects of the business, like staffing and marketing.
Also, few create a budget but fail to follow it. This is as unhealthy as it is when there is no budget. Being a small business owner, one can always go for apps available to create a budget and keep track of expenses and their sources.
Neglecting low credit score
Availing a business loan requires an impressive credit score. A credit score works as an indicator of the creditworthiness of the business. Lenders look for businesses with high credit scores to invest. Having a good credit score helps to get loans at a lower interest rate.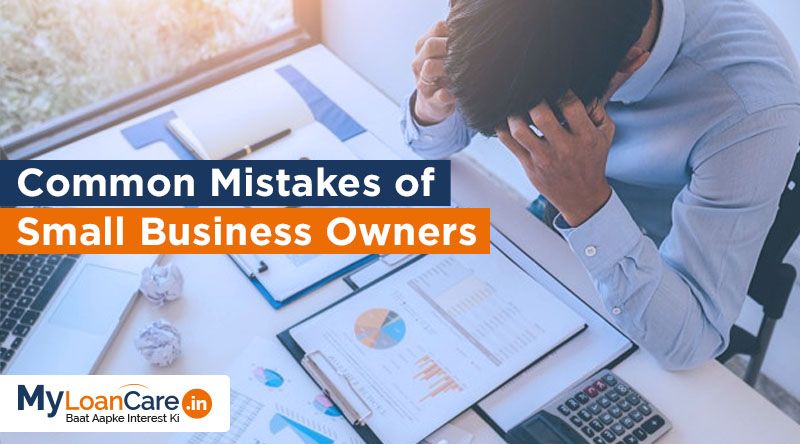 Working capital is the day to day cash flow required to keep the business running. Low working capital leads to unpaid bills, scarcity of required raw material, unpaid staff, etc. In today's world, the facility of overdraft can easily be the solution for maintaining daily expenses.
Insufficient research about investments
A very common misconception that business requires huge investment sometimes becomes a hurdle. These investments include acquiring equipment, marketing, employing skilled staff, etc. However, less expensive alternatives are also available. Thorough and proper research is all which is required to solve it.
Incompetence to separate business and personal expenses
During the starting years of the business, it is rather tricky to separate business and personal expenses. It is essential to segregate these two. For the business to survive in the long run, it is required that proper accounts are made to showcase the true and fair financial position of the business. An effective way to solve this is to create separate bank accounts and avail other banking facilities so that issues like cash flow and tax payment can be sorted.
Many people in business want the whole of their business in the palm of their hands. It may sound adventurous and exciting, but the reality is way too far behind it. A single person doesn't have all the talent to manage each activity of the business. Therefore, an effective delegation system is required, which not only builds the team for the future but also increase the effectiveness and efficiency of the business.
Most of the businessmen fail to understand consumer choices. Their products and services are not market-ready. People are not willing to spend their time and money on things that are not worthy of their eye. Therefore proper tests and research should be done to overcome this problem.
Ignorance for intellectual property
Intellectual property like patents, copyrights, trademarks, etc., is significant for a business. These rights are legal identification of a business. Ignoring them can cause losing them to the competitors, who, with the same, can earn higher profits.
Managing and operating the business was never and will never be an easy task. Being the owner of a business means that at the end of day one is bound to make mistakes, and it is okay to do so! 
Making mistakes, learning from them, and moving ahead with more determination is part of one's successful business experience.